Viking Rowing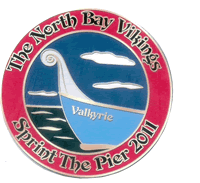 Viking Rowing is a whaleboat rowing club associated with the Bay Area Whaleboat Rowing Association (BAWRA).
We row a one-ton boat with eight oars and a coxswain for fun and to prepare for races with other Bay Area teams (see sidebar).
Practice Days and Times
Please come and join us at our practices, which are Sunday mornings at 8:00 a.m. and Wednesday evenings at 5:00 p.m. Our boat, the Valkyrie, is berthed at Union Point Park, on the calm waters of the Oakland Estuary near Coast Guard Island. (Get directions)
Races, listed to the right, are held in our estuary, out on the San Francisco Bay, in Vallejo, and Lake Tahoe.
Why We Row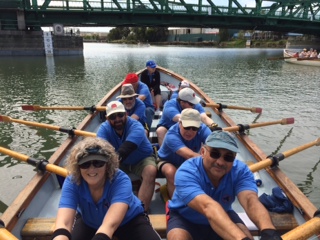 Some would say we're crazy, but we enjoy the teamwork and the:
Purposeful exercise—rowing exercises your whole body: back, shoulders, legs, and abs.


Challenge and fantasy of a crew facing wind, tide, and wave in a primitive machine.


Tension between a coxswain cracking the whip and a crew on the edge of mutiny.


Beautiful sunrises and breathtaking sunsets in the heart of our great metropolis. The city lights and salt air remind us that we live on the Bay.
Join Us!
Join us with your sense of adventure, your strength and stamina, your appreciation for marine life, and desire to kick butt in the races.
Camaraderie, Exercise,
Competition, Sun, Wind, and Wave
BAWRA Calendar of Events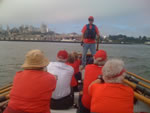 3/8: BAWRA General Meeting
3/18: Coxswain Training
4/1: BAWRA Kickoff Party
4/8: SOMIRA Skipper Whipper, Vallejo
4/22: Coast Guard Challenge, Oakland
4/29: Row'd Warriors Spring Sprints, Oakland
5/13: Oakland Cup
6/3: Alcatraz, San Francisco
6/10: Bridge-to-Bridge, San Francisco
7/19: BAWRA General Meeting
8/26: Coxswain Training

9/16: ERC Sprints, San Francisco
9/23: Sprint the Pier, Berkeley
10/7-8: Vallejo Waterfront Weekend
10/21: Ketos San Leandro Bay Muck
10/28: Head of the Estuary, Oakland
11/8: BAWRA General Meeting
12/10: BAWRA Workday in Alcatraz Historic Gardens